Hello!
I'm going to talk about one of my favourite movies ever, Dirty Dancing wich is known for it's iconic lift and soudtrack. It was written by Eleanor Bergstein and directed by Emile Ardolino. The movie is about a girl who goes on vacation with her family to a resort and ends up falling in love with the dance instructor. The film stars are Jennifer Grey and Patrick Swayze, the movie is a romantic dance film.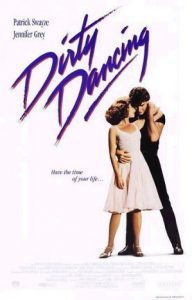 The action is placed on the summer of 1963, where Frances "Baby" Houseman (Jennifer Grey) is on vacation on a resort with her family. The resort has a dance teacher, Johnny  Castle (Patrick Swayze) and Baby develops a crush on him. Then she finds out that Johnny's dance partner Penny (Cynthia Rhodes) is pregnant and want to have an abbort but the only day she can do it is on a day where she as a show, so Baby starts having dance lessons with Johnny to dance in Penny's place. As the 2 of them have more dance lessons and Baby beggins to improve, the two start falling in love.
The movie is well acted; the soundtrack is amazing, being the most know song "(I've had) The time of my life";the dance routines are very well performed. The movie is romantic, exciting and emotional, as you are watching it you get attached to the caracters and the story. The ending is fabulous and powerful. If you lik dance movies you will certaintly like this movie. The movie was released in 1987 but never went out of fashion, as in 2009 it had earned $214 million worldwide.
By wacthing the film you learn a lesson, stand for what is right not matter what is costs. I recommend you see this movie , you will not regret it, I know I loved it!